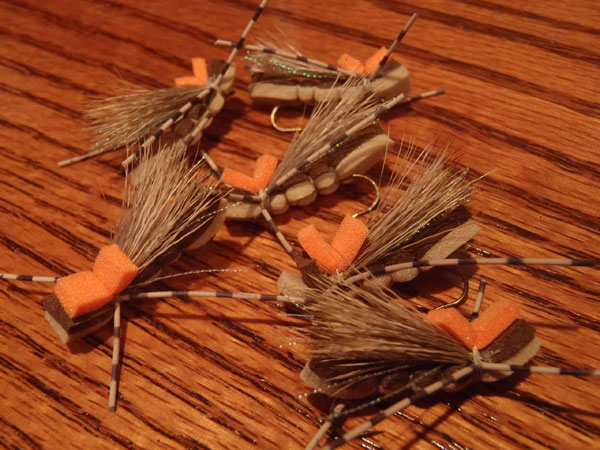 I'm heading back to Rocky Mountain National Park Sunday for what might be my last chance to catch the hopper frenzy on the Big Thompson.  In anticipation, I tied up half a dozen foam hoppers as per John Rumney's design.  In general, I'm not a big fan of foam but I have to admit it makes a very effective hopper pattern that is easy to tie, floats well, and is durable.
I deviated a little from the original pattern by using a longer-shank hopper hook and a Chernobyl Ant foam cutter for the body instead of the beaver tail contoured cutter but they still look good and I'm confident they will work.  Here's how to tie John's hopper pattern:
I also made a recent discovery that I think could help me pare down my fly fishing kit a little.  90% of the time, I find myself fishing either 5X or 6x tippet (the exception being when I'm lake fishing with midges and need to drop down to 7X).  I usually carry a spool of each size and switch according to fly size, water conditions, and fish wariness.  While at my local fly shop last weekend, I found something I'd never seen before–not 5X tippet, not 6X tippet, but 5.5X tippet!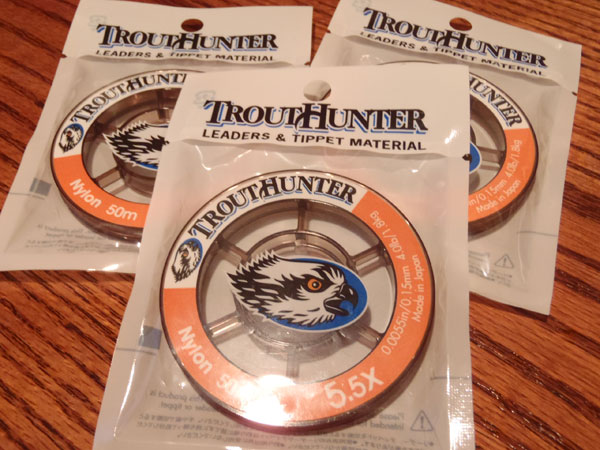 It's called Trout Hunter tippet and at 0.0055″ it's right in between typical 5X and 6X diameters.  This tippet has a great strength-to-diameter ratio and is a very versatile size that will allow me to carry just one spool instead of two.  The tippet comes in UV resistant, waterproof packaging to keep it "fresh" while a larger diameter spool reduces line memory:
I finally broke down and got Tenkara Talk business cards.  I just wanted something to hand out on the stream to spread the word about tenkara.  I made the cards myself in Photoshop using a picture Brian Flemming took of me on our recent trip to Rocky Mountain National Park. It might be a little shameless, but I kind of like the way they came out.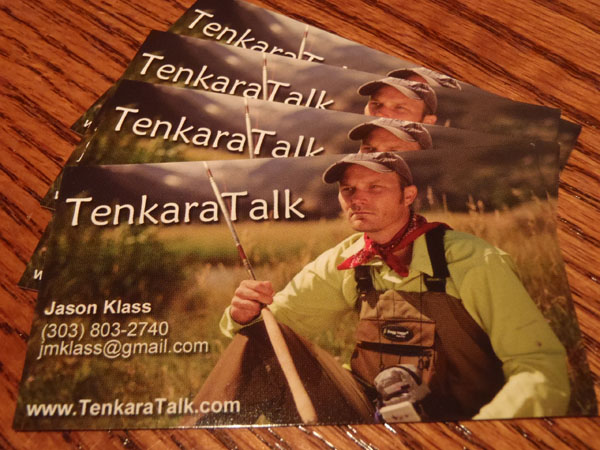 That's it for now.  I'll have a post after my trip on Sunday.  I hope you're getting out and enjoying some great fall tenkara fishing!

Like this article? You might also like these ...