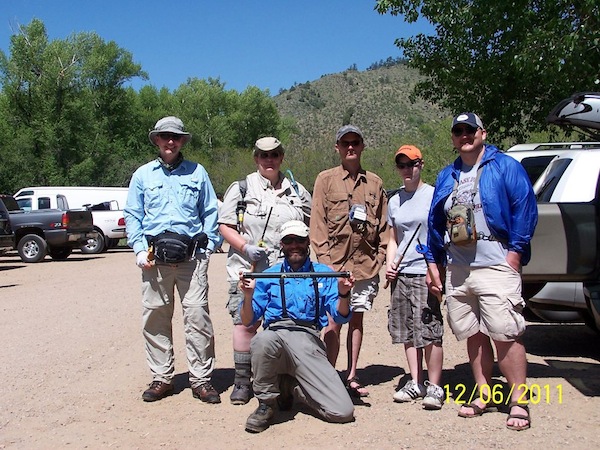 The last three weekends, I've been hitting Bear creek at Lair O' the Bear Campground.  The first trip was with a group Tenkara outing organized by Karel Lansky of the Tenkara on the Fly blog.  With a mix of new and experienced Tenkara anglers, this was a blast and we will be organizing more trips to help people get into Tenkara and announce them on the Colorado Tenkara Anglers group on Facebook.
[/caption]
I provided rods for those who didn't have them yet and everyone seemed to really enjoy Tenkara!
I had a great day and landed about a dozen brown trout ranging from a miniscule 4″ to a whopping 10″.  Every fish was caught on a Japanese Hammer #16 in Adams color.  I think this was a good choice since the PMDs were coming off and the fish were chasing emergers.
Yesterday, I went back for a half day and had another great trip. This time, I bumped into Karel and a couple of other Tenkara fly fishers:  Eric and Cooper.  We talked a while, checked out each others' gear and had a few laughs.
The high point was when my Trail Designs titanium net fell into the water and Karel courageously chased it downstream (risking life and lilian) to retrieve it.  He got it back before it succumbed to the current and he is now officially my hero.  Thanks Karel, I owe you one!
Again, the PMDs were coming off pretty steadily and I was able to fish the Japanese Hammer all day as an emerger.  I landed about 6 nice fish including this Rainbow:
I got a lot of refusals this time.  I probably had about 30 strikes but only landed 6 fish.  It was one of those days.
On the bright side, I got to try out my Tenkara Bum level line for the first time.  I REALLY like this line!  Not only is it easier to cast in the wind, it's very easy to keep off the water and eliminate drag.  I had a 12 ft. line and was using my 11 ft. Iwana rod so I cut off a foot as I was in some tight places at times.  The line performed better than I had anticipated.
Not that I care too much about line visibility (since I mostly fish dry flies and watch the fly instead of the line) but I was impressed by just how visible the line was.  If I were nymph fishing and needed to see the line to detect strikes, this is the one I would use.
Since many streams are blown out now in Colorado because of the above average snow pack, Bear Creek is a good option right now because it's a tailwater.   Even though it receives a fair amount of pressure, the fish are still very cooperative.  Over the last month, I've had nothing but good experiences there and was happy to see so many Tenkara anglers.  All in all, it's a great stream that's just a short drive from Denver.
Tips for Fishing Bear Creek, Colorado
Get there early! I can't emphasize this enough.  Lair O' the Bear is a zoo in the afternoon with picnickers, photographers, mountain bikers, fly fishers, etc.  If you get there late, not only will you find it difficult to get a parking spot, but most of the water will have been fished through.  I'd recommend getting there no later than 8 a.m. if you want to have a good fly fishing experience and a little solitude before the onslaught.
Be willing to hike in. If you want peace and quiet, it's best to hike up Bear Creek trail a ways.  You can fish near the parking lot early in the morning but the later it gets, the more you risk having passersby putting down your fish, asking you annoying questions, or getting snagged with your back cast.  There's great water near the parking lot, but it's best early.  Consider fishing that when you first arrive, then hiking upstream to get away from the crowds.
Collapse your rod. Walking the trail with your 12 ft. rod extended is not the best idea.  There are hikers, kids, mountain bikers, and foliage that can all snag your rod or line.  If you're going to hike up, it's really better if you collapse your Tenkara rod.  Why risk a lawsuit if you poke someone's kid in the eye, or worse, a broken tip on your new Iwana if you don't have to!
Like this article? You might also like these ...