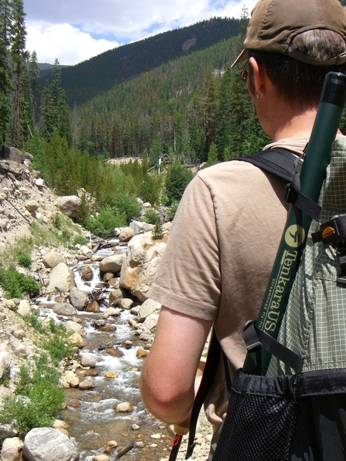 A long time ago, multi-piece fly rods were considered junk.  The technology to prevent multiple ferrules from compromising the action of the rod simply hadn't been perfected yet.  Fast-forward to the present and we are lucky enough to have a multitude of pack rods that cast just as well as 2-piece rods.  Lucky for us, most modern backpacks have the perfect place to store them too.  Just slip your case in the side pocket, secure it with a compression strap and you're off.
My only problem with that is that the cases that come with most fly rods are unnecessarily heavy and are designed more for carrying through the airport than miles into the backcountry.  For a while, I started leaving the case behind and just putting a couple of rubber bands around the rod sections before slipping it into the side pocket.  That was more than a little precarious and a few snags on branches gave me a good scare on more than one occasion.
When I was first learning about Tenkara fly rods, one of the things I immediately noticed was how thin and light the cases were compared to conventional fly rod cases.  Perfect for backpacking, right?  I carried the case for a while, very happy with all the weight I was saving.  Then, a thought occurred to me.
Do I even need the case?  When closed, all of the segments of the telescoping Tenkara rod are safely stowed inside the butt end of the rod and kept in place with an end cap.  Since they're contained in the thickest, strongest part of the rod, I couldn't see any likely scenario on the trail that could possibly cause damage.  So, this became my preferred method.  No case, just stick it in the side pocket as is.  Without the case (and no need for a reel) I had reduced my total fly fishing setup by many, many ounces without sacrificing anything.  I love it when you find the perfect system for you and get to reduce pack weight as a bonus.  How do you pack your fly rod?

Like this article? You might also like these ...